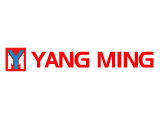 Yang Ming Maritime Transport Corporation
The Yang Ming Marine Transport Corporation (Yang Ming) was established on December 28, 1972.
Since that time, our staff members across the world have observed our core values of "Teamwork, Innovation, Honesty and Pragmatism" in enhancing our transportation expertise and service quality. We have dedicated ourselves to providing global and sophisticated marine transportation services. By providing our customers with high-quality "punctual, speedy, reliable, and economical" services, Yang Ming has become one of the leading shipping companies in the world.
In March of 2021, Yang Ming operates a fleet of 89 vessels with a 7.085-million-D.W.T / operating capacity 629 thousand TEUS, of which container ships are the mains service force.
As a result of our effort to enhance our global competitiveness, Yang Ming has won the following awards and certificates since 1996: National Outstanding Quality Award of R.O.C. (Taiwan), International management code for the safe operation of ships and for pollution prevention (ISM Code), International Ship and Port Facility Security Code (ISPS Code), ISO 9001 Quality Management, ISO 14001 Environmental Management, ISO 27001 Certificate for Information Security Management System, TOSHMS 2011 Certificate for Taiwan Occupational Safety and Health Management System, and OHSAS 18001 Occupational Health and Safety Management System Certificates, Customs – Trade Partnership Against Terrorism(C-TPAT), Authorized Economic Operator(AEO).
Detailed information on our global services and trades, please visit our route map: www.yangming.com